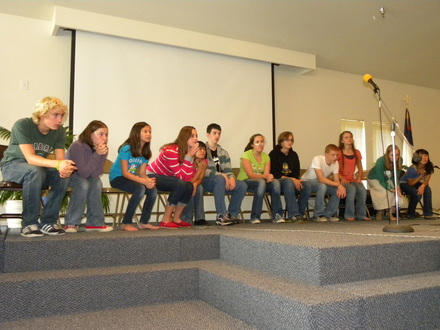 International Open Championships
Christian Bible Quizzing (CBQ) is a radical new form of Quizzing that allow quizzers from a variety of traditions and translations to quiz together in an exciting environment with increased individual and team scoring options. The International Open Championships (IOC), hosted on the beautiful campus of Seattle Pacific University from July 11-13, will include teams from across the United States and Canada from Free Methodist, Nazarene, World, CMA, other programs both pre-existing and new. We expect to run junior and senior youth competitive divisions as well as an adult division. And when not quizzing, there will be optional fun activities for all including laser tag, a talent show, and various other games.
Don't miss out on this opportunity to fellowship with Quizzing people you might otherwise never meet and to experience what we're working hard to make the most fun quiz meet in recent memory. This meet is an open invitational. All who are interested in participating are invited and encouraged to submit their interest. The goal of the meet is to Bible Quiz across many programs and styles, building bridges and advancing interest in Bible Quizzing.
Registration Process
We announced IOC officially on Christmas, 2022. Over the following weeks, the IOC leadership team reached out to various Bible Quizzing leaders across Canada and the United States. We received a significantly larger and stronger response to our invitations than originally expected, which of course is wonderful, but it does mean we've had to do some rethinking around how the IOC participation registration process will happen.
As many of you are keenly aware, travel costs can be a significant limiting factor for participating in large-scale international Bible Quiz meets. The IOC leadership team secured a grant that we can use to help subsidize costs for teams. Our original plan was to pay down all costs for all teams; however, given the much larger than expected positive response to the IOC announcement, we'd like to ensure we use the grant in the most effective way.
So we're going to conduct IOC registration in 4 phases.
Phase 1: Registration Reservations
The first phase, which is open now and will close in Monday, May 1, 2023, invites anyone interested to "reserve" a registration spot. Basically, this just means you're invited to fill out a non-binding survey of your interest, team(s), geographic origin, financial needs, and other bits of information. Try to estimate as accurately as you can, because this will help us determine costs and allocate grant funds more effectively; however, we're not expecting your "reservation" to be perfect.
For any team or teams that complete a reservation prior to Monday, May 1, 2023, those teams will receive:
A 15% discount on all meet costs
Access to travel subsidies
Phase 2: Cost Planning and Announcements
Using the reservation data, the IOC leadership team will calculate specific meet participation costs and determine the method we'll use for distribution of travel subsites. As soon as we have these details, we'll announce them all on the CBQ web site and by email to all those with reservations.
Phase 3: Actual Registration
Actual meet registration will open on Thursday, June 1, 2023 at 6 PM PDT, 9 PM EDT. This will be when anyone (regardless of having a reservation) will be allowed to registered. However, only those with reservations will be given the 15% discount and provided access to travel subsidies.
There will be a first-come, first-served access to travel subsidies, so we advise you to make plans to register as soon as possible once actual registration opens.
Actual meet registration will close on Monday, June 19, 2023.
Phase 4: Invoicing, Payment, and Billeting
Shortly after registration closes, IOC leadership will build an invoice for your team(s); however, payment is not due until the IOC meet itself. You can pay ahead of time by check or at the door.
IOC leadership will also put together billeting for those who need housing. We'll provide all those details shortly after registration closes.
Common Questions
What's the age range or age limits for participating in IOC?
There's no official age range or limit, though IOC leadership feels the meet is best suited for quizzers in middle school and high school. However, it's entirely up to coaches and programs to evaluate the maturity level and readiness of their quizzers.
Wait, you said "adult division"? Are you serious?
Yes. We're serious. We fully expect there to be enough registrations to support an "adult division". This will be a separate division from the "main event" youth Bible Quizzing division.
What will be the material for the IOC meet?
We expect the material label for IOC will be: "Acts 1-19 (1) Matthew 1-13; 1 Timothy; 2 Timothy; Titus (1) NASB NIV BSB". (See the the CBQ rule book for an explaiation for what a material label is and means.)
How much will IOC cost per quizzer?
We honestly don't know. We know it will cost less than the cost to host the meet at SPU, since we have a sizable grant to help bring down costs per quizzer/team. However, we're not yet sure how far down we can bring the costs, and this is why we're deploying this multi-phased approach. Much of the costs of putting on IOC are based on the number of quizzers who participate and their travel subsidy needs.
OK, should I do right now then?
First, evangelize IOC to other quizzers and coaches. Form some IOC-bound teams. Then:
I have questions you didn't answer.
Please email us: q@cbqz.org